Find A Sugarhouse
If you have a sugarhouse and want it to be listed, please click here to register. If you are a current member looking to renew your membership, please complete the following:
Click here for directions to renew your listing
Find your sugarhouse in the directory and click on the title to open your listing.
Below your contact information click on the orange "Claim this Listing" button.
Create a username and enter your address to register.
The next screen will allow you to add a comment with some information on your site and select your one year subscription. When finished, please click the "Next step" button.
At this point you can select either a one-time payment (One Time) or recurring payment (Per Year) as well as a manual, PayPal or credit card payment. If you select a manual payment, you will need to fill out this form and send it with your check payment.
You will receive an email confirming your registration and asking you to set a password. By logging in, you are able to edit information on your sugarhouse, add a description as well as photos. Once approved by the NHMPA, these will appear live on the site.
If you have already claimed your sugarhouse using the "Rest of 2016" option, please complete the following:
Log into your account at https://www.nhmapleproducers.com/my-account/
Visit the Dashboard page (http://www.nhmapleproducers.com/directory-dashboard/)
On the far right click on the box with the downward facing arrow and gear and select the Renew Listing option. This will allow you to complete a one-time or recurring payment.
If you run into any problems, please send an email to sarah@mod-spot.com for support.
You may also download and mail in your application using this form.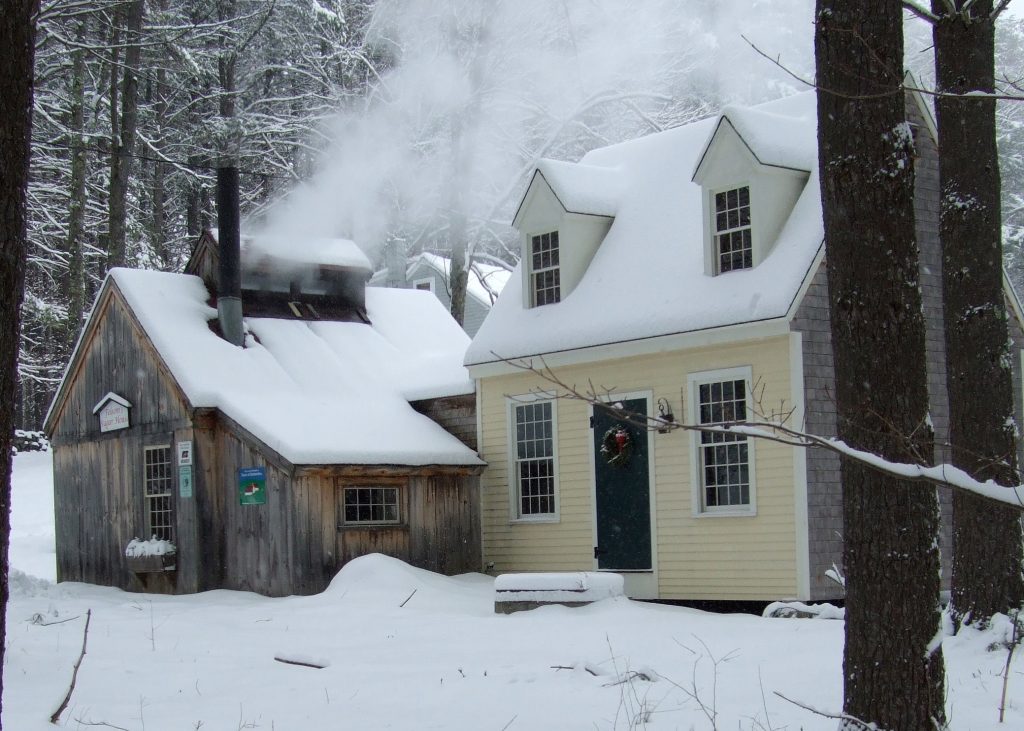 130 Candia Road, Chester, NH 03036, United States
130 Candia Road
Chester
New Hampshire
03036
US
Our traditional sugarhouse is open year round and welcomes visitors to enjoy the maple sugaring in February and March. Come watch the sap boil and inhale that sweet maple scent everyone enjoys so much.  We produce not only great maple syrup but we make all our own candies, maple cream and maple sugar.  In sugar season we also have Maple Tire (aka Maple Taffy) and Maple Cream Cones to enjoy.  Free samples available.  Other specialty maple products we offer are Maple BBQ Sauce, Maple Mustard, Maple Caramel Corn, Maple Pepper Seasonings, Pancake Mixes and pottery.
Maple Month 2017
Join us weekends 12- 4pm for "Maple Tours" at the sugar house. The entire process is explained from sap to syrup. Tapped trees are close by and down a short trail for you to check and see the sap running when the weather is right. Boiling schedules are posted each week to our website for you to use to plan your trip. And there are always samples of syrup to taste along with one or two other maple products.
Maple Weekend offers extended hours and the addition of Maple Ice Cream Sundaes for a small charge. In addition, assorted handouts for kids and adults are offered while supplies last.
Visit us at http://www.folsomsugarhouse.com for current activities and hours or call us at 603-370-0908
Saturday March 11 Hours: 12-4pm
Sunday March 12 Hours: 12-4pm
Saturday March 18 Hours: 12-4pm
Sunday March 19 Hours: 12-4pm
Saturday March 25 Hours: 10-5pm
Sunday March 26 Hours: 10-4pm
Saturday April 1 Hours: 12-4pm
Sunday April 2 Hours: 12-4pm
Contact Name:
Brian & Sue Folsom